Mr. C.B. Gemawat started small, at a very tender age and being fond of writing he gave a unique story of grit and determination to the world. His unwavering spirit reflects in the success story of Gateway Group.
He participates in the decision-making for board and committee meetings of Gateway Group and is responsible to ensure smooth functioning and enabling visionary board decisions. He mentors one and all in the organization, people from the grass-root level to people at the highest hierarchy.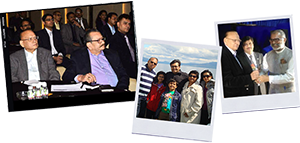 Though he remains the guiding light of the group, he now dedicates energies in many philanthropical and social-good activities. He is a Trustee of CB Gemawat Charitable Trust, Director at Gateway Education and Training, as Trustee, he is active with Shrimad Budhisagar Surishwarji Jain Swetambar Murtipujak Gurukul and Samaj Sevakendra.
He has a decade-long 'administrative experience' and has been associated very closely with 'educational publications' as well as authored books on academics for the State of Gujarat. He has a Bachelor's in Science (Physics-Chemistry) and a Master's in Physics.