Harry is the Chief Commercial Officer (CCO) at Gateway's DiLX' division. His primary responsibilities involve day-to-day commercial management (marketing & sales) decisions and implementation of the company's long and short-term plans as well as to drive success plans for the DiLX .
With over 25 years of experience in the global IT industry Harry has had a dynamic management career with strong leadership, problem-solving, planning, team building, marketing, new business sales, and account management skills. He builds excellent relationships with clients and partners, and ensures the performance of global deliveries.
Harry started his career at Unilever UTD (feed manufacturing). He was responsible for commodity administration and optimization (Bestmix) and warehousing (IBM). Later he joined a big retail bank in Amsterdam as office director of three bank subsidiaries in Diemen and Almere. He was involved in strategic mergers and acquisitions including front- and back-office banking IT projects. When ERP software became popular, he continued his career at Baan Company (today Infor) as VP marketing & sales in semi process industries. Years later he moved to IT players like Interchain (today BluJay) and GreenCat in transport management (TMS), warehouse management (WMS), container management (CMS) and customs, always in the CCO role.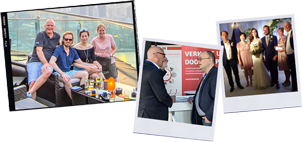 From the beginning of 2006 to January 2015, Harry successfully handled his own company Consolit as the CEO and shareholder. He had also started project assignments in companies focused on supply chain distribution (planning) and manufacturing optimization and control (SCM/ SCP/ S&OP/ IBP).
He is culturally sensitive with the experience of working in Northern Europe and the United States. He is respected for a team-based management style, value-based leadership skills, and vision-based organizational design. He is born in Rotterdam, a fan of Feyenoord and has played badminton fanatically for many years until his new hips became a reality. A new hobby emerged: online marketing and SEO. In the scarce leisure time, he builds websites on his own VPS.