Pascal joined Autofacets in May 2017 to open French operations just after he created Moby-D, a consulting business operating in the field of fleet management and mobility. For 15 years he geared ALD SA from being a small French company toward a world leader in fleet management business and its successful introduction into the French stock market. Previously he worked as a managing director in Financial businesses in Italy and the UK. He has also been for some time chief economist in an international bank.
He is a recognized expert in mobility area worldwide, having been elected in the Fleet Europe "hall of fame" in 2013 for his contributions to the fleet management and vehicle lease industry, and now being chairman of the advisory board of Global Fleet in Latin America. He speaks regularly at events and appears often in the press.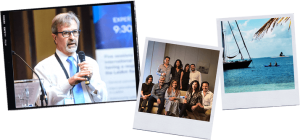 Pascal has worked for more than 20 years in Latin America, the UK and Italy and the rest in France. From a professional and cultural angle, he considers himself a citizen of the world speaking fluently Spanish, Italian, English and obviously French.
Strategic thinking, management, sales, customer relationship and finance have been his forte.
Pascal is a graduate from HEC (Hautes Etudes Commerciales – 1975) and holds a PhD in Economics from Paris VIII University (1986).