ABOUT

Rahul Gadiya

Rahul Gadiya is the CEO of "Gateway aniMedia Works" (GMW) and heads the global business. Rahul is responsible for ideation, conceptualizing, visualizing concepts and creative direction for all the key projects.

He is the Founder and Chief Architect of Media Flavours and Fountain Pixel Animations. These companies were floated with the aim of developing quality animation content and offering animation services to global as well as local clients.

Rahul holds a Master's Degree in Commerce from Pune University and has completed a PG Diploma in Advanced Computing from C-DAC, India. Rahul has 14+ years of combined experience in the Animation & IT industry.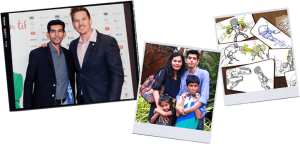 Rahul has been instrumental in creation of various IPs which were acquired by Turner Broadcasting System Asia Pacific Inc. (Cartoon Network + Pogo), one of the leading Kids TV network in India.