ABOUT

Shaival Trivedi

Shaival is Chief Technology Officer of Gateway's Transport and Logistics division – DiLX. He is responsible for Customer Delight, Technical Excellence, New Technology Innovation, Project Reviews, Process Implementation and Process Standardization for the DiLX team. He maintains customer relations, understands the target market and is extremely influential in the delivery of IT projects.

He has 18+ years of IT experience and great technical skills that help him deliver customer excellence, ensuring smooth delivery with technology always functioning as the backbone. He is responsible for exploring new technological frameworks and upcoming architectures for possible utilization in client solutions. Exposure to key engagements, working with European and Asian customers directly help his team and him understand the culture and define the strategy accordingly. He is highly respected for his technical and team-leading skill.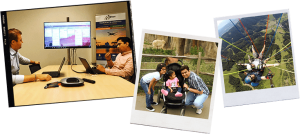 Shaival is an advanced technology futurist who keeps himself updated with the latest tech inventions and is most of the times seen engrossed in tech news. He has pursued his Advanced Software Technology from a reputed university.