ABOUT

Indrajeet Mitra

Indrajeet is the Founder & Board Member, CEO AutoDAP & CEO Gateway SecureLabs.

Indrajeet as the co-founder and technocrat directs the company's strategic direction, development and future growth through sustained technological innovations and product roadmap. As the Group Chief Technology and Innovation Officer, he directs the teams to attain the company's strategic goals established in the annual plan.

As the co-founder he laid the foundation of the frameworks on which Gateway Group today has created the niche as the preferred technology partner to global customers. He heads a powerful multi-platform and multi-skilled technology team to build capabilities and achieve quality benchmarks.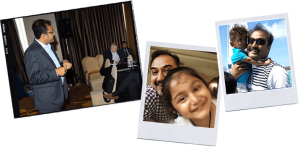 In his new role as the Chief Human Resources Officer, he has taken upon himself to build the next level of leadership in the system to aid the growth of Gateway as magnet of innovation and talent. He has consistently delivered a positive change and built the winning team at Gateway. His leadership inspires efforts of his team, who use technology to outline standards and provide innovative solutions for next-Gen technology. Prior to being a part of Gateway Indrajeet managed large-scale projects at Veritas Inc. He has over 20+ years of experience and holds a Bachelor's degree in Science and Master's in Computer Application from Gujarat University.
He has also completed an Executive MBA course from the Haas School of Business UC Berkeley, California.