Vilas is the Chief Technology Officer at Gateway's Autofacets division. His rich experience in 100+ successful projects in matured markets gives him the depth to offer relevant technology and solutions in the journey of transformation. He works closely with clients in devising their roadmap and strategies for overall success.
He has carved his way up from a project engineer to a CTO. Vilas is playing a key role in the company's growth and leads the architecture framework for the development of many critical and large-scale projects in the field of Automotive, Finance, Insurance, Banking, e-commerce and IT. A few of Vilas' qualities are that he is a very curious person and open to new learnings and that has made him keep his clients satisfied with his innovative tech and spontaneous solutions. As a CTO, Vilas effectively holds, develops, articulates and continually evolves the company's strategic direction and product roadmap.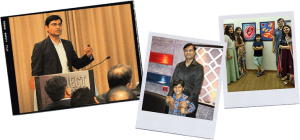 He holds a Bachelor's degree in Electronics and Communication from Gujarat University.